Welcome to our All Metals Processing Company Blog where we post information on announcements and business improvements.
Our new website is up and we are live!
Thank you for coming out to the new site. Just as we look to improve how we do business each day, we have taken the same approach with the website. You will find that some things have been proven to be effective on the site and some that are brand new. Let's take a tour!
Homepage:

Our homepage has a fresh look and is a great place to jump to the various areas of the site. You use our search bar to find a spec you are looking for. Keep it simple on your searches for the best results (Looking for Chromic Acid Anodize of Aluminum, Type 1? Just search "Chromic" or "Anodize" so your results don't get filtered).
You can also go to our approvals page to see specs listed by the corresponding prime contractor on our approvals page. Have a look at the bottom of the page as well to see just a few of our approved Prime Contractors' logos. If you are looking for more information, recent changes, or need something specific, give us a call at (714) 828-8238 and we will get you in touch with the right person.
Process Capabilities:

You can get more information about our departments, their capabilities, areas, and processes from the homepage or the links toolbar. On the homepage you can see the links to our various departments and products. Just click the corresponding picture or title link to get more information.
About Us: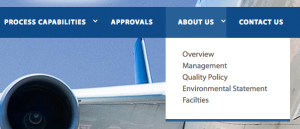 We at All Metals are proud of all of our team and the work that we do. We believe that our employees are our most important asset and have the best in the industry.
In this section, we have our companies mission statement, NADCAP and AS 9100 certifications, quality policy, facilities page, environmental statement and our Management page.
Need a quote:
You can go to the top right corner of your browser and click the "Request a quote" button. It helps to get us your information and a place to upload files. You can also email us at Estimating@AllMetalsProcessing.com and call (714) 828-8238 and request our quoting department.
Contact Us:
 Everything at your fingertips. We have our phone numbers and email addresses, map and directions, and a place to submit comments for our Marketing and website teams.
Didn't find what you are looking for? Just call us. We take pride in getting you the right information and our number is at the top and bottom of each page.
Thanks for visiting our 1st post. Keep coming back for information on new business, announcements, new approvals, and additional capabilities.